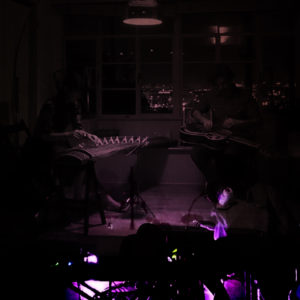 ---

Sounds et al presents electroacoustic collaboration from two duos: Caspar Sonnet/Kozue Matsumoto, and Kaori Suzuki/John Krausbauer.


Caspar Sonnet (guitar – Los Angeles – USA) and Kozue Matsumoto (koto – Tokyo – Japan) bring their individual instrumentation together, performing experimental and emotive collaborative work from their upcoming collection 'Versus'.

Husband and wife duo Kaori Suzuki and John Krausbauer (Oakland – USA) continue their 2018 tour (Japan, USA, Canada, Mexico) performing on voice, bell, percussion, electronics and amplified strings – hypnotizing soundscapes filled with rich acoustic intricacies.
$5-$15 sliding scale
All ages
10.30pm
INFO
---
Caspar Sonnet is an experimental multi-instrumentalist, singer-songwriter currently living in Portland, Oregon. Primarily self taught, his unusual song structures, extended techniques and haunting voice have been inspired by an array of eclectic sources, including: Native American mythology, Pre-war blues, world music and minimalist composition/orchestration. Sonnet continues his work which now includes voice, prepared acoustic lap-steel guitar, harmonica & percussion.

Kozue Matsumoto was born and raised in the Tohoku, Japan, and is now based in Los Angeles. She has played koto since she was three years old under Ikuta-ryu Miyagi-kai and holds a semi-master title. She has also played shamisen and shinobue since she was small. Alongside collaborations with musicians, dancers and visual artists, she is currently working on integrating the koto sounds and computer technology to expand the koto sounds.

Kaori Suzuki (b. Tokyo) is a composer of electronic and electroacoustic music living in Oakland, CA. Her musical works are concerned with inner-sensory responses and transformative states, often emphasizing duration and dynamics through meticulous synthesis techniques. Her projects include her handmade instrument building platform Magic Echo Music, solo/collaborative compositions with analog synthesis, and solo computer music utilizing spectral properties of transducer-driven objects, combined with the use of auditory distortion products and other inner-ear phenomena. She has performed at various venues in the Bay Area and Pacific Northwest including Jack Straw Productions, Debacle Fest, TUFFest (Seattle, WA), S1 (Portland, OR), Berkeley Art Museum, Studio Grand, CCRMA (SF Bay Area), and recently the San Francisco Electronic Music Festival. She holds a master's degree in Electronic Music and Recording Media from Mills College. Her new album Newsun is out now through Sounds et al.

John Krausbauer is a music conceptualist/multi-instrumentalist currently living in Oakland, CA. He has performed and presented his music in a multitude of settings for 20 years – from basements, sidewalks, and rock clubs to colleges, churches, and art galleries. Numerous recordings of his work have been released on independent labels in the US, Europe, and Japan (soon). His recent musical work involves ritual-endurance happenings for solo voice, violin, and synth, and with the Ecstatic Music Band (a rotating 10+ member collective), both of which utilize 'just' tunings for amplified bowed strings at high volumes and long durations, with live stroboscopic lighting for TOTAL/immersive environments; The Essentialists (w/David Kendall), an electric country-blues-boogie-raga guitar/violin duo; the minimalist psych-punk group, Night Collectors; his systems-based phase compositions; and a new collaboration with the steel bodied resonator guitar player, R. Keenan Lawler. His new collaborative album PDRM is out now through Sounds et al.
---
15 NE Hancock St
Portland, OR 97212
USA