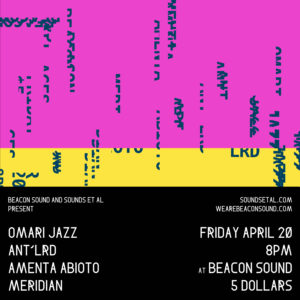 ---

Beacon Sound and Sounds et al present Omari Jazz, Ant'lrd, Amenta Abioto AND Meridian
---
Omari Jazz is an electronic musician from Brooklyn, NY, currently living in Portland. His music weaves sentient poly-rhythmic chaos, contemplative ambience, and vivid Afro-futurism. Oscillating between a digital Fela Kuti, and a intergalactic Ravel, you'll find yourself dancing, floating, and possibly astral projecting.

Colin Blanton AKA Ant'lrd has been forming busted loops, and found sound into tiny sonic universes that calm and swirl since 2009. His new collaborative album, Deck Amber with artist Benoît Pioulard will be released through Sounds et al on 1st June 2018.

Amenta Abioto was born and raised in Memphis, TN. She became a part of the Portland community in 2010 after graduating from Idyllwild Arts Academy where she trained in musical theatre. Since graduating she has courted the music scene and produced one self-titled EP, Amenta Abioto, and one album, Opening Flower Hymns. Mythological characterization and cultural stories are reflected in her original works. Her single, Wade, was released through Sounds et al in February 2018.

Birmingham-bred and Portland-based, Meridian is an electro-acoustic solo act that fuses minimalism with excess, ambience with emotion, and glitter with dirt. His watery experimental pop swells up and down, bending through abstract shapes and patterns, landing in a cathartic jacuzzi that feels like home.
---
3636 N Mississippi Ave
Portland, OR 97227
USA