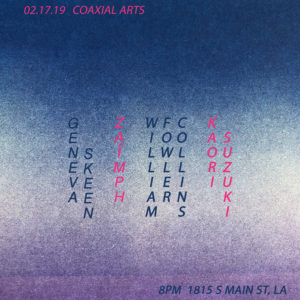 ---

One of two west coast shows from Kaori Suzuki and Zaïmph (solo project of NYC's Marcia Bassett).
This show is at Coaxial Arts, Los Angeles

$7
8pm doors / 9pm performance
---
Zaïmph is the solo project of artist, musician and performer Marcia Bassett. Working in areas of sound, improvisation, live composition and visual creations, Bassett's work is equal parts trance and critique. Her sound pieces thread the needle between the conceptual and the sensual, between ritual invocation and cold semiotic gaze. Using handmade electronic instruments, prepared guitar, digital and analog synthesizers, manipulated vocals, field recordings and tape explorations, Bassett deftly wields philosophical systems to produce heady, experiential clouds; pushing through drones into provocative soundscapes – the intangible narratives of dreams.

Kaori Suzuki is a Tokyo-born music maker/composer living in Oakland, CA. Her solo music involves electroacoustic sound technologies, intensely high register electronics, various instruments and tape, seeking to create heightened listening states. She plays drums in the Oakland based Minimalist psych-punk group, Night Collectors, and collaborates with partner, John Krausbauer, on voice, amplified strings, bells, and immersive light/sound happenings. For this evening she will be joined by musician Amelia Coulter (Seattle) on alto trombone.
---
1815 Main St.
Los Angeles, CA
900015
USA