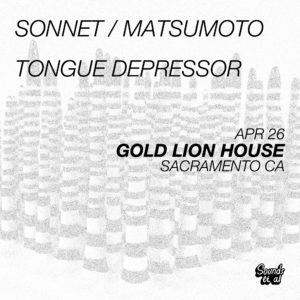 ---

To support the release of their upcoming album, Versus, Caspar Sonnet and Kozue Matsumoto are touring throughout 2019.
This show is at Gold Lion House, in Sacramento CA.

---
Caspar Sonnet (b. 1976 Los Angeles, California) is a composer/performer/multi-instrumentalist currently residing in Portland, Oregon. He has been composing and performing experimental/improvisational music since 1996. Sonnet's multi-instrumentalist abilities include: lap steel dobro, harmonica, percussion & voice. His work mainly focuses on extended technique, just intonation, physical movement in affection to sound, dynamic/rhythmic juxtapositions and instrumental location.

Kozue Matsumoto – Born and raised in Tohoku area in Japan and having lived in Tokyo and Vancouver, Canada as well, Kozue now lives in the Los Angeles area in California. She has played koto since she was three years old under Ikuta-ryu Miyagi-kai and holds a semi-master title. She has also played shamisen and shinobue since she was small. Kozue has performed in various occasions both in Japan and North America. Other than performances and inter-disciplinary collaborations with various artists, she has a strong interests in exploring the potential of Japanese traditional music and performing arts beyond their conventional contexts.
---
Gold Lion House
Sacramento CA
USA