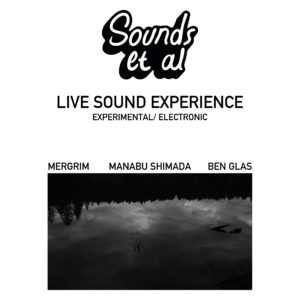 ---

Sounds et al presents a live sound experience, three sound artists performing their work in Berlin for the first time…
---
manabu shimada is a Japanese sonic artist based in London and Tokyo. His artistic work includes performances, installations and exhibitions predominantly in Europe. Alongside his technical skills he has worked as a freelance composer and sound designer for many years, working with companies such as Audi, Fuji, BBC, Toyota and EMI. His second album, pieces for her, was released on Sounds et al in 2016.

Ben Glas is an interdisciplinary artist and composer based in Portland, OR. With a keen focus on sonic phenomena and vibration, his work engages concepts of relativity, spacetime and egalitarian modes of experiencing sound. His past works include public sonic installation in Portland such as B-Format Installation @ Cathedral Park, and recordings such as Music To Interact To as released by the New York label Blankstairs, Intra/Inter and Inging (From My Space To Yours) as released by Portland-based label deepwhitesound. He is an active member of the International Artist Collectives INK and Mediterranean Fires. His EP, Music For An Empty Space and A Full Mind was released in 2017 by Sounds et al, alongside an exhibition of the same name at the One Grand Gallery, included as part of Design Week Portland 2017.

Mergrim is a solo project by Takahisa Mitsumori, a musician born in Takaraduka Hyogo. He is the owner of Electronic music label moph records, and has release 4 albums with solo / unit / live remix album etc. He is also the booking director of the club KGR 'n in Kagurazaka Tokyo. The latest work releases "Hyper Fleeting Vision" from PROGRESSIVE FOrM x moph. He moved to Berlin in 2017 and has entered into the production of new work.
---
Brunnenstraße 22
10119 Berlin
Germany