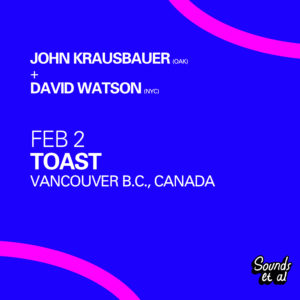 ---

To support the release of his album, PDRM, John Krausbauer is touring throughout 2019.
This show is at Toast, Vancouver B.C.

---
John Krausbauer (b. Indianapolis) is a music conceptualist and multi-instrumentalist currently based in Oakland. He has performed his music for over 20 years in a multitude of settings – from basements and rock clubs to colleges and art galleries. Numerous recordings of his work have been released on independent labels in the US, Europe, and soon in Japan.
In recent years his focus has been on his solo work, involving ritual endurance happenings with voice and violin, accompanied by synth and strobes; his compositions, mainly concerned with systems-based phasing constructions; the Ecstatic Music Band, exploring just tunings with amplified strings at high volumes and long durations, with stroboscopic lighting; The Essentialists, a country-blues-boogie-raga guitar/violin duo; and most recently the formation of the "M"inimalist psych-punk group, Night Collectors.
---
648 Kingsway
Vancouver BC
V5T 3K4
Canada