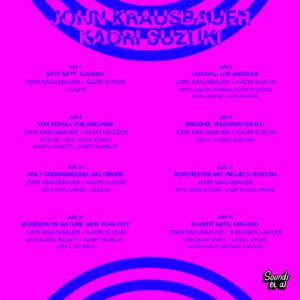 ---

To support the release of his new album, PDRM, John Krausbauer is touring throughout 2018 alongside Kaori Suzuki.
This show is at Coaxial, Los Angeles, with other performances from Joseph Hammer, Peter Kolovos, Devin Sarno + Ang Wilson.

---
John Krausbauer (b. Indianapolis) is a music conceptualist and multi-instrumentalist currently based in Oakland. He has performed his music for over 20 years in a multitude of settings – from basements and rock clubs to colleges and art galleries. Numerous recordings of his work have been released on independent labels in the US, Europe, and soon in Japan.
In recent years his focus has been on his solo work, involving ritual endurance happenings with voice and violin, accompanied by synth and strobes; his compositions, mainly concerned with systems-based phasing constructions; the Ecstatic Music Band, exploring just tunings with amplified strings at high volumes and long durations, with stroboscopic lighting; The Essentialists, a country-blues-boogie-raga guitar/violin duo; and most recently the formation of the "M"inimalist psych-punk group, Night Collectors.

Kaori Suzuki (b. Tokyo) is a composer of electronic and electroacoustic music living in Oakland. Her musical works are concerned with inner-sensory responses and transformative states, often emphasizing duration and dynamics through meticulous synthesis techniques. Her electronic performances often involve spatialization and high volumes to build saturated frequency interactions and resonances in the room. Her projects include her handmade instrument building platform Magic Echo Music, various solo/collaborative compositions with analog synthesis, and recently her solo computer music utilizing spectral properties of transducer-driven objects combined with the use of auditory distortion products and other inner-ear phenomena.
She has performed her music in various settings in the west coast of America including numerous DIY venues and galleries, music festivals such as Debacle Fest, TUFFest, and the San Francisco Electronic Music Festival, and academic institutions such as Mills College, Stanford (CCRMA), and Berkeley Art Museum. She holds a master's degree in Electronic Music and Recording Media from Mills College, released her most recent album Newsun in March 2018 through Sounds et al.
---
1815 Main St
Los Angeles
CA 90015
USA