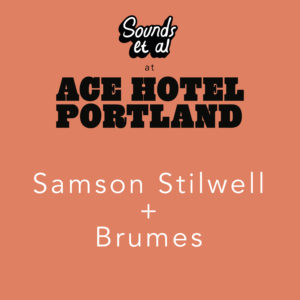 ---

Sounds et al launches this monthly performance series at the Ace Hotel Portland.
To start off the series, we have two local artists – Samson Stilwell and Brumes.

The series showcases a wide variety of sound artists, mainly focusing on experimental and electronic performances – always worth hearing.

Free entry, all ages
First Thursdays every month
6-8pm in the hotel lobby
---
Samson Stilwell works with sound and language to create art within a lyric tradition. His work often lives within the borders, or between spaces, of language and sound, music and noise, thought space and meat space. His first album, 'Signals', was released in 2017 on vinyl and digital formats by the label Sounds et al. He has performed throughout the US and Canada for series such as Volume (LA), Land and Sea (OAK), Quiet City (BC), and TBA (PDX). In 2016 he co-founded "Soundspace" a radio-based installation series focused on turning the radio into a space for new modes of listening. In 2018 he will co-direct Variform Gallery, an installation and sound art gallery located in Portland, OR.

Brumes is Desireé Rousseau + an array of lovely contributors. Inspired by a lonely autumn, Brumes, was born in a basement as an experimental looped based ambient project in 2012. Brumes has since had rotating contributors and has evolved into orchestrated atmospheric sounds including keys, guitar, harp, vocals and occasional violin.
---
1022 SW Stark St
Portland, OR 97205
USA