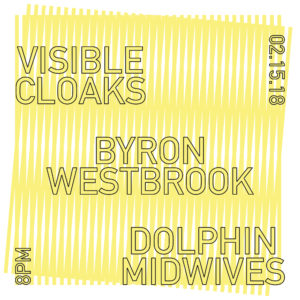 ---

Sounds et al, Open Signal, and Holocene, present this show with performances from Visible Cloaks, Byron Westbrook, and Dolphin Midwives.
Alongside the beautiful sounds, each performance will include visual art, with Byron Westbrook and Dolphin Midwives collaborating with artists from Open Signal.
---
Visible Cloaks, ambient duo from Portland OR, began as the solo project of Spencer Doran. He first came to prominence in 2010 with his mix series Fairlights, Mallets and Bamboo, on which he dug deep into cult, rare-groove Japanese ambient and new age from the '80s. Following their 2014 self-titled EP being released on cassette by Sun Ark and vinyl by Musique Plastique, their soothing, otherworldly music created significant buzz, and they were signed by Rvng Intl., which released their debut full-length album, Reassemblage in early 2017.

Brooklyn-based artist and musician Byron Westbrook has been performing and showing experimental sound work internationally since 2008. Following two releases under the moniker Corridors, Westbrook's debut LP under his given name (Precipice on Root Strata) was named #4 Best Experimental Album of 2015 by Pitchfork. He recently released a new LP in 2017, Body Consonance (Hands in the Dark Records) and is currently an artist in residence with ISSUE Project Room.

Dolphin Midwives — echo jungle chaos magic moon milk ocean murmurating orchid sleeper holy hands/helping hands interface nodes/architecture/lace gravity doesn't exist change the laws of physics levitation shapeshift/shadow energy density clarity prismic sound microtonal vision quest whirling rainbow vortex portal opening reverberating witch sister who plays harp/zither/voice/noise/electronics and everyday objects.
---
1001 SE Morrison St
Portland, OR 97214
USA