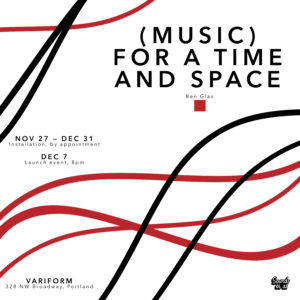 ---

Sounds et al is supporting sonic artist Ben Glas with his new sound installation.
(Music) For A Time And Space provides a site-specific sonic experience. The work is a relativistic sound composition based on measurements taken at the Variform gallery, with three sources producing sound waves that interact with the space, creating various subjective tonal interactions for the audience.

The work questions the friction-based boundaries between listener and composer, authority and subject. Each participant is prone to have their own experience, and paradoxically compose the perception of all other persons in the space at Variform.
---
Ben Glas is an interdisciplinary artist and composer based in Portland, OR. With a keen focus on sonic phenomena and vibration, his work engages concepts of relativity, spacetime and egalitarian modes of experiencing sound. His past works include public sonic installation in Portland such as B-Format Installation @ Cathedral Park, and recordings such as Music To Interact To as released by the New York label Blankstairs, Intra/Inter and Inging (From My Space To Yours) as released by Portland-based label deepwhitesound. He is an active member of the International Artist Collectives INK and Mediterranean Fires. His EP, Music For An Empty Space and A Full Mind was released in 2017 by Sounds et al, alongside an exhibition of the same name at the One Grand Gallery, included as part of Design Week Portland 2017.
---
328 NW Broadway
Portland, OR 97209
USA