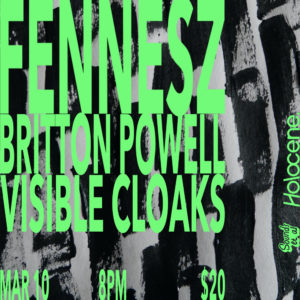 ---

Sounds et al and Holocene present a night of emotionally engaging electronic music, with performances from Fennesz, Britton Powell and Visible Cloaks.

TICKETS
---
Fennesz is a Viennese musician who uses guitar and computer to create shimmering, swirling electronic sounds of enormous range and complex musicality. "Imagine the electric guitar severed from cliché and all of its physical limitations, shaping a bold new musical language" (City Newspaper, USA). His lush and luminant compositions are anything but sterile computer experiments. They resemble sensitive, telescopic recordings of rainforest insect life or natural atmospheric occurrences, an inherent naturalism permeating each piece.

Britton Powell is an artist, composer and performer based in Brooklyn, NY. Through the means of electronic sounds, video, and acoustic instrumentation his work explores pyschoacoustic phenomena, minimalism, and sacred traditions of world music. His works have been commissioned for performances including at Centre Pompidou (Paris), Guggenheim House (Japan), Issue Project Room (New York), Unsound Festival (Poland), and Barbican Centre (London).

Visible Cloaks, ambient duo from Portland OR, began as the solo project of Spencer Doran. He first came to prominence in 2010 with his mix series Fairlights, Mallets and Bamboo, on which he dug deep into cult, rare-groove Japanese ambient and new age from the '80s. Following their 2014 self-titled EP being released on cassette by Sun Ark and vinyl by Musique Plastique, their soothing, otherworldly music created significant buzz, and they were signed by Rvng Intl., which released their debut full-length album, Reassemblage in early 2017.
---
1001 SE Morrison St
Portland, OR 97214
USA