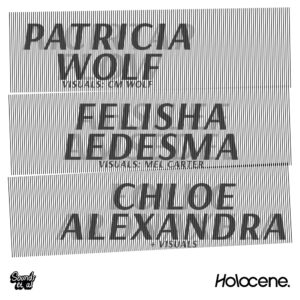 ---

Sounds et al and Holocene Portland present a night of live electronic music with performances from Patricia Wolf, Felisha Ledesma and Chloe Alexandra.

All three artists are currently Portland-based, and represent (in the opinion of Sounds et al) the best of the city's electronic music scene. Aside from their own performative practice, all three contribute significantly to the community — perhaps most obviously through Patricia's co-curation of Varifom, Chloe with her role at Open Signal and Felisha's passionate work at S1 — but also through their continuing work elsewhere.

Come along for the best sounding Wednesday night of the summer…

x

TICKETS
---
Visuals

Each sound artist will also be accompanied by live visuals —

Patricia Wolf will perform alongside video work by CM Wolf, mostly focused on their recent trip to Sichuan province, China. The video pieces deal with time distention. In this audiovisual expression, they hope to impart an immersive and poetic impression.

Felisha Ledesma will be collaborating with mixed-media artist Mel Carter.

Chloe Alexandra will be working with artist and musician Arjan Miranda on visuals throughout her performance.
---
Patricia Wolf is an electronic musician and singer currently residing in Portland, Oregon. Her work spans across many disciplines of music ranging from abstract techno, to immersive sound collage, to melodic compositions that defy genre. She was 1/2 of the now inactive synth pop duo, Soft Metals.

Felisha Ledesma is the director of S1, a non-profit, artist run project space and contemporary art center in Portland, and the co-founder of the associated Synth Library.

Chloe Alexandra Thompson (b. 1990, Canada), is a Cree, artist and curator, living in Portland, Oregon. Thompson works in new media and poetry, using aesthetics as a means to seduce the viewer into a stream of ongoing equilibrium and the interval that articulates the rush of daily events. Using Pure Data and voice, Thompson creates unique sonic experiences through the spatialization of isolated frequencies.

Mel Carter (b. 1992) grew up in the Bay Area and now lives and works in Seattle. She graduated with a BFA in Photomedia from the University of Washington School of Art & Art History & Design in 2014. She explores relationships between humor, the grotesque, whimsy, and intimacy through mixed media. She uses materials she's comforted by in her practice; food, assortments from dollar stores, and given objects, to illustrate a wanting to care for others. Her heritage and childhood greatly influences her work, as much of it is created from memories or dreams she remembers from when she was young.

Arjan Miranda is a musician and artist living in Portland OR with two cats. He cut his chops in progressive thrash metal, but had a realization that it couldn't answer his deeper questions. His current obsessions are classic songwriting, self help, poetry and video feedback. His punk band is called 'Peace Sign' his solo project is under his name and he is playing bass for Black Mountain. He sincerely wishes you good fortune in overcoming the obstacles of your life.
---
1001 SE Morrison St
Portland, OR 97214
USA