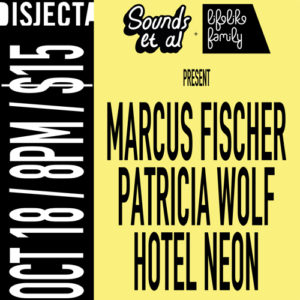 ---

The first in a new series of sound-focused events at DISJECTA, Sounds et al and Lifelike Family present an evening of captivating ambient performances from Marcus Fischer (Portland, OR), Patricia Wolf (Portland, OR) and Hotel Neon (Philadelphia, PA).

$15- // All ages
No-one gets turned away for lack of funds
TICKETS
---
Marcus Fischer is a first generation American musician + interdisciplinary artist based in Portland, Oregon. His work typically centers around memory, geography + the manipulation of physical audio recording mediums. Slowly unfolding melodies and warm tape saturated drones have become a trademark of his recordings + live performances alike. These sounds have found their way into multimedia installations, short flims, and even into the award winning public radio program Radiolab. Fischer has released a number of recordings on the widely respected 12k label including his photographic + sonic collaborations with label founder Taylor Deupree. In 2017 Marcus Fischer was an artist in residence at the Robert Rauschenberg Foundation / Rauschenberg Residency where he completed "Loss", his most recent album (released September, 2017). Fischer performs solo, in collaborations, and as a member of unrecognizable now, secret drum band and wild card.

Patricia Wolf is an electronic musician and singer currently residing in Portland, Oregon. Her work spans across many disciplines of music ranging from abstract techno, to immersive sound collage, to melodic compositions that defy genre. She was 1/2 of the now inactive synth pop duo, Soft Metals.

Hotel Neon is a Philadelphia-based ambient trio, consisting of Michael Tasselmyer, Andrew Tasselmyer and Steven Kemner. Known for its heavy emphasis on enveloping walls of sound, Hotel Neon also injects subtle melody and improvisation to create a rich musical experience, one that rewards any level of listener scrutiny. Since forming in early 2013, the group has released four full-length albums through the Home Normal, Fluid Audio, and ARCHIVES labels. Hotel Neon has toured extensively throughout the U.S.A. and collaborated with a global roster of audio and visual artists. At home in any kind of listening environment, Hotel Neon has presented its unique style of dense, layered drone to a wide range of audiences and varied settings, including basements, radio studios, and cavernous cathedrals alike.

Lifelike Family are supporters, cultivators, and curators of ambient, electronic, and experimental music in Portland Oregon.

DISJECTA is a non-profit contemporary art center in Portland, Oregon that builds ambitious programs that promote artists and engage communities.

Event gear provided by Open Signal.
---
8371 N Interstate Ave
Portland, OR 97217
USA