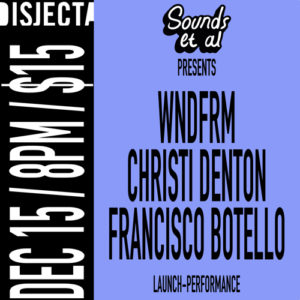 ---

The second show in a new series of sound-focused events at DISJECTA, Sounds et al presents an immersive listening experience and album release, featuring three Portland-based sound artists.


Primarily, wndfrm will be presenting new work titled 'anticube', an exploratory experience originally performed on 16 wooden resonators hand built by Giorgio Magnanensi, for the 'West Coast Radians' installation (UBC campus, March 2018). Alongside the performance, 'anticube' will also be released physically through Sounds et al – double LP vinyl (in very limited quantities), two records intended to be played concurrently. Vinyl copies will be available at the event.

The evening will also be featuring performances from Christi Denton, and Francisco Botello. Denton utilizes electronics and modified instruments to explore sound, creating immersive sonic experiences, and Botello engages with field recordings to produce spacious soundscapes.

Expect to plunge into an evening of sonic art, presented in the beautiful space of DISJECTA.
$15- // All ages
No-one gets turned away for lack of funds
TICKETS
---
wndfrm is Tim Westcott, a Canadian sound artist, musician and audio engineer currently based in Portland, Oregon. His recorded and performative work is characterized by heavily processed field recordings, tones, drones, abstract percussive elements, a wide dynamic range and an inquisitive, patient ear. Tim's process is experimental, auto-didactic, and often oriented around a spatial experience. He has performed in the US and Canada, at various venues where listening is emphasized.

Christi Denton is a Portland based composer and sound installation artist who works with found sounds, electronics, and homemade and modified instruments. She has a degree in Music Composition from Mills College and a graduate certificate from the Centre de Creation Musicale Iannis Xenakis (France). Christi has built giant chimes as part of the Music for People & Thingamajigs Festival and amplified exhibits in the Exploratorium. She played at the Spark Festival and has been featured on flasher.com. Her music is part of the exhibit Six Seconds Around Me in the Casoria Contemporary Art Museum in Italy. In 2011 and 2012, her work was featured in collaborative performances for Ten Tiny Dances at the Time Based Art Festival in Portland, where dancers controlled music through light and flex sensors. She competed in the 2012 Guthman Instrument Competition, was in residency at Caldera in 2014, and has played in every Electrogals festival since 1995.

Francisco Botello is a sound artist from South Bay, San Diego now residing in Portland, Oregon. He is currently working with original field recordings to create soundscapes reflecting the environment they were collected from. His interest in environmentally influenced music was inspired by his experiences at his grandparents' ranch in Mexico and traveling throughout Central America. He is now focused on the study and development of a career in sound ecology, acoustic ethnography and sound design.

DISJECTA is a non-profit contemporary art center in Portland, Oregon that builds ambitious programs that promote artists and engage communities.

Event gear provided by Open Signal.
---
8371 N Interstate Ave
Portland, OR 97217
USA