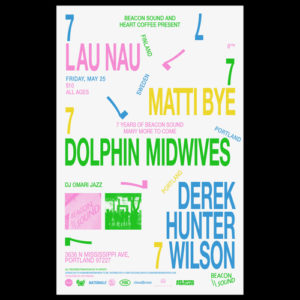 ---

To celebrate the 7 year anniversary of Beacon Sound, there will be live performances from Lau Nau (Finland), Matti Bye (Sweden), Dolphin Midwives (USA), and Derek Hunter Wilson (USA).

Anyone who donates at least $10 to NOMOREFREEWAYSPDX on the night of the show will be entered into a very exciting raffle!

Sponsored by our good friends:
Ace Hotel, Cloudforest, Expatriate, Nationale/Le Oui, FISK
---
Lau Nau, aka Laura Naukkarinen, is one of the more interesting names in the Finnish music scene. Her songs are imbued with a cinematic breadth of vision and her idiosyncratic, finely honed soundworld builds on fragile, spectral otherness.

Matti Bye (Born 1966) is widely considered as one of Sweden's most important composers of film scores and an extraordinary performer with his own, incomparable style of improvisation on the piano. He is also widely recognized for having written a series of innovative scores for such early Swedish silent film classics as Phantom Carriage by Victor Sjöström, Häxan by Benjamin Christensen, and Gösta Berling Saga by Mauritz Stiller, now included on a 6 DVD box set released by Svensk Filmindustri, SF, as well as countless other silent films. Last year he wrote the score for Academy Award nominee Jan Troell's latest feature Everlasting Moments and Stig Björkmans "Scenes from a playhouse" – a documentary about Ingmar Bergman.

Dolphin Midwives — echo jungle chaos magic moon milk ocean murmurating orchid sleeper holy hands/helping hands interface nodes/architecture/lace gravity doesn't exist change the laws of physics levitation shapeshift/shadow energy density clarity prismic sound microtonal vision quest whirling rainbow vortex portal opening reverberating witch sister who plays harp/zither/voice/noise/electronics and everyday objects.

Derek Hunter Wilson is a multi-instrumentalist and composer based in Portland, OR.
---
3636 N Mississippi Ave
Portland, OR 97227
USA