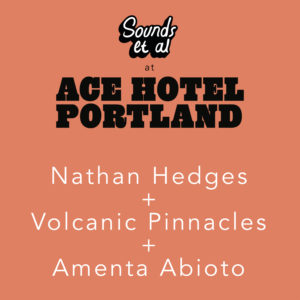 ---

Sounds et al hosts this monthly performance series at the Ace Hotel Portland.
This month we've got three quite different artists – Nathan Hedges, Volcanic Pinnacles and Amenta Abioto.

The series showcases a wide variety of sound artists, mainly focusing on experimental and electronic performances – always worth hearing.

Free entry, all ages
First Thursdays every month
6-8pm in the hotel lobby
---
Nathan Hedges is Portland based multi-instrumentalist singer/songwriter and producer currently signed to Mibe Music (NYC). Nathan has been writing, recording, and performing live for nearly 20 years in various projects and toured extensively throughout the US. Nathan's unique rich voice lends itself well to his indie/pop/surf/folk style of songwriting, while staying true to his soul and blues roots. Nathan is currently in the studio recording a new album for his Cities & Coasts project.

Songwriter, songstress, and actor, Amenta Abioto is on the cutting edge of all that is musical, theatrical, and literary. Her music is boldly mystical and soul-fired, and her raw live performances invoke elements of both theatrical surprise and magic through ancient African diasporic sounds and stories. Weaved into syncopated rhythms and dichotomies of comedic proportions, Amenta surprises and tantalizes audiences with mind bending ideas. She brings to the music scene funky academia while skipping vocally from soul shaking gospel to smooth jazz and then onto hip hop rhythms wrapped in West African beats.

Volcanic Pinnacles is a Portland duo that creates dense clouds of ambient, melodic, and grooving sound. Drawing inspiration from the likes of spiritual jazz as well as avant-garde and post rock pioneers, the duo bridges the gap between free jazz, post rock, psychedelic rock, and world rhythms. Saxophone player Tony Mowe utilizes electronics to push his instrument into innovative territory, creating a deep droning wave of melody, while drummer Mark Musselman sculpts the sound into shifting polyrhythmic layers.
---
1022 SW Stark St
Portland, OR 97205
USA