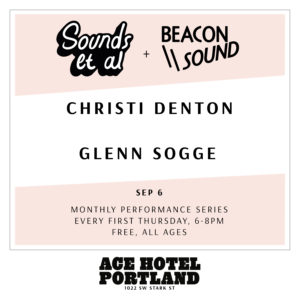 ---

Sounds et al and Beacon Sound host this monthly performance series at the Ace Hotel, Portland.
This month, performances from Christi Denton and Glenn Sogge.

The series showcases a wide variety of sound artists, mainly focusing on experimental and electronic performances – always worth hearing.

Free entry, all ages
First Thursdays every month
6-8pm in the hotel lobby
---
Christi Denton is a Portland based composer and sound installation artist who works with found sounds, electronics, and homemade and modified instruments. She has a degree in Music Composition from Mills College and a graduate certificate from the Centre de Creation Musicale Iannis Xenakis (France). Christi has built giant chimes as part of the Music for People & Thingamajigs Festival and amplified exhibits in the Exploratorium. She played at the Spark Festival and has been featured on flasher.com. Her music is part of the exhibit Six Seconds Around Me in the Casoria Contemporary Art Museum in Italy. In 2011 and 2012, her work was featured in collaborative performances for Ten Tiny Dances at the Time Based Art Festival in Portland, where dancers controlled music through light and flex sensors. She competed in the 2012 Guthman Instrument Competition, was in residency at Caldera in 2014, and has played in every Electrogals festival since 1995.

Glenn Sogge recently retired to his childhood home on 6+ acres in the Pacific Northwest after decades of school, work, family, pets, and soccer refereeing in the Chicago area. Early in his career, he studied with Luciano Berio, Tom Willis, Jack Burnham, Frederic Rzewski, and Sonia Landy Sheridan. He also collaborated on performances with Robert Moran. The sounds of birds, wind, streams, squirrels, chickens, and the occasional coyote define the soundscape he is now immersed in. The woods and nearby mountains both obscure and highlight the horizons every day. Glenn has done collaborations with Cousin Silas, Candy L, Marco Lucchi, Lutz Thuns, Boson Spin, Jaime Munárriz, Tuonela, grum-pe, and many others in addition to extensive solo work. A recent activity has been creating the artwork for album covers for himself and others.
---
1022 SW Stark St
Portland, OR 97205
USA