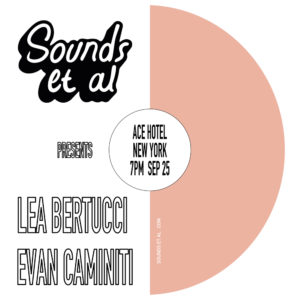 ---

Sounds et al presents an evening of sonic art from two distinct performers — Lea Bertucci and Evan Caminiti.


Both artists will be presenting their own experimental sound work — Lea Bertucci utilizing alto saxophone and tapes ('disquieting jolts along with microtones that are hypnotic and grounding' — Pitchfork), and Evan Caminiti working with modular synthesizer ('work that heaves and menaces like grey storm clouds' — Paste).
Free entry, all ages
7-10pm
INFO
---
Lea Bertucci is an American composer and performer whose work describes relationships between acoustic phenomena and biological resonance. In addition to her instrumental practice, (alto saxophone and bass clarinet), her work often incorporates multi-channel speaker arrays, electroacoustic feedback, extended instrumental technique and tape collage. Deeply experimental, her work is unafraid to subvert musical expectation.

NYC-based artist Evan Caminiti constructs sonic narratives utilizing a variety of electronic and acoustic sources. He has recorded and performed internationally for over a decade, publishing work on his imprint Dust Editions, in addition to Thrill Jockey Records, Shelter Press and more. A new EP, "Refraction", commissioned by Make Noise Records, will be released in October 2018.
---
20 W 29th St
New York, NY 10001
USA