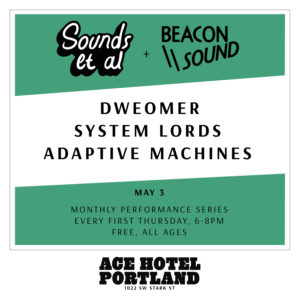 ---

Sounds et al and Beacon Sound host this monthly performance series at the Ace Hotel Portland.
This month we've got three artists all focussed on the synth…it's gonna be fun — dweomer, Adaptive Machines, and System Lords.

The series showcases a wide variety of sound artists, mainly focusing on experimental and electronic performances – always worth hearing.

Free entry, all ages
First Thursdays every month
6-8pm in the hotel lobby
---
dweomer – electronic druidic music from cascadia.

Adaptive Machines is a Portland, Oregon based project that's focused on capturing live performances on a eurorack modular synthesizer to tape.

System Lords is the current project from Keith Foster (Antecessor).
---
1022 SW Stark St
Portland, OR 97205
USA