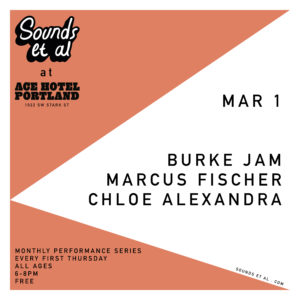 ---

Sounds et al hosts this monthly performance series at the Ace Hotel Portland.
This month we've got three Portland-based artists — Marcus Fischer, Chloe Alexandra and Burke Jam.

The series showcases a wide variety of sound artists, mainly focusing on experimental and electronic performances – always worth hearing.

Free entry, all ages
First Thursdays every month
6-8pm in the hotel lobby
---
Marcus Fischer is a first generation American musician + interdisciplinary artist based in Portland, Oregon. His work typically centers around memory, geography + the manipulation of physical audio recording mediums. Slowly unfolding melodies and warm tape saturated drones have become a trademark of his recordings + live performances alike. These sounds have found their way into multimedia installations, short flims, and even into the award winning public radio program Radiolab. Fischer has released a number of recordings on the widely respected 12k label including his photographic + sonic collaborations with label founder Taylor Deupree. In 2017 Marcus Fischer was an artist in residence at the Robert Rauschenberg Foundation / Rauschenberg Residency where he completed "Loss", his most recent album (released September, 2017)

Chloe Alexandra Thompson is a Cree, Canadian artist and curator, living and working in Portland, Oregon. Using Pure Data, Arduino, hardware and voice, Thompson creates unique sonic experiences and expressions through the spatialization of isolated frequencies. Thompson's work has been shown at Littman and White Galleries, Compliance Division, Open Signal, Bronco Gallery, and PCC. She has also presented in collaborations for Converge45, Disjecta, Out of Sight (Seattle), PICA T:BA:17, and Nationale. Thompson has given lectures, workshops and has served as guest faculty at T:BA:17 Institute in dialogue with Tanya Tagaq, Portland State University, PNCA, Open Signal, home school pdx, and Reed College (upcoming). Thompson's written work has also been featured in publications including Art in America, Zero Cool, Provision, Cig Thesis, and Blankstairs.

Burke Jam is an artist, composer, curator and educator. His recent work in performance, installation and recorded media explores sound as intervention–questioning and subverting perceptual coherence and relationships with physical place. His research engages the intersection of field recording, composition, acoustic ecology and the Anthropocene. Following the completion of his MFA in 2013 at the University of Montana, Jam received a Fulbright Grant to Iceland researching environmental sound and methods of listening. Jam performs and exhibits internationally, and works as the Director of Digital Facilities and Instructor of Music and Art in the College of the Arts at Portland State University.
---
1022 SW Stark St
Portland, OR 97205
USA