Singer Songwriter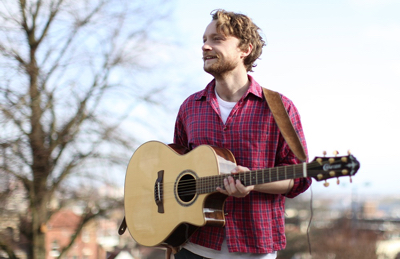 In this interview with Sennen Timcke, we to try and understand how he works, the challenges he faces and what tools he uses.
Sennen is a singer songwriter currently based in the South West of England. He's been focussed on both writing and recording over the last few years – his first EP, 'From Now On' came out in 2013 and he has a new album 'Closer Now' set for release this spring. At present he's in Barcelona on a long tour of Europe, playing live everyday, exploring different cities and towns, and perfecting his performance.

---
First things first, what are you working on at the moment?
Launching my new album. I'm also currently busking my way back to the UK from Spain – with the aim to play music everyday, make videos on the go and promote my new work.
How has your work, or attitude to your work, changed since you began?
Patience is a good thing. At the moment I'm unsigned and so most things that I work on are done on a shoestring – it can take time to develop projects. Its arguably more creative this way, so I remind myself to enjoy the process as much as possible, but musicians really have to do a lot nowadays!
I'm really happy to be a musician though, it took me a few years to pluck up the courage to quit my job and go for what I really love doing.

---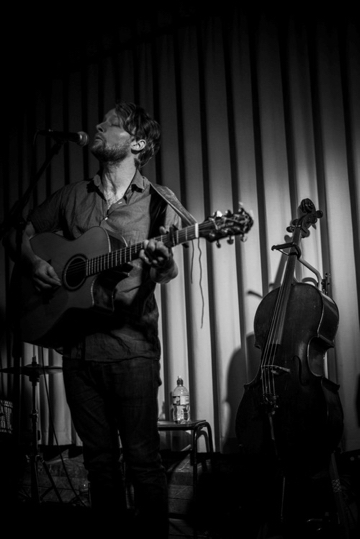 formimages.com
frederiquebellecphotography.com
---
What stimulates your creativity, and what influences do you draw upon?
Inspiration stimulates creativity. I feel inspired when I see other musicians play; a great gig or YouTube vid. Also living rurally and being on the road is a good way for me to get the creative juices flowing.
I like to go through a lot of experimentation in the form of jamming, collaborating and making mistakes! Sometimes the best riffs and melodies can come from letting the reference point of a few chords be explored in a rehearsal or Logic project.
How important is collaboration to you?
Very. Its really the best way to bring a project to life because we all have different strengths and talents. The tracks on my new album are a whole new dimension thanks to the cunning guitar parts, basslines, rhythms and harmonies the guys I recorded with brought to the table.

---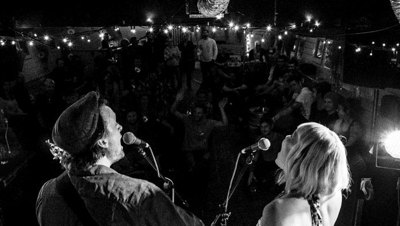 ---
How do you approach your work, and what tools do you rely on?
Songwriting and recording projects have a life of their own, but the screen work is best done during the early hours of the night when it's quiet, after any gigs I have, and when everyone else is asleep. To be honest, I probably work too hard, its good to remember life outside of creative pursuits and to switch off and see friends – keeping it all balanced.
My music studio is simple and comprises of a Macbook, Alesis IO 26 sound desk and some pretty sweet mics including a Zoom H4N portable recorder for field recordings and music videos. I also use a Nikon D3100 to shoot vids with a nifty fifty lense.

Buy a MacBook, sound desk, recorder or camera through the links above to help support Sounds et al!
---
What do you enjoy the most, and the least, about your work?
Most of it! The buzz of writing new songs and seeing them evolve to the point when you get to play them live. Recording is amazing fun too, really good to capture your current songs and feel able to move on! The worst – way too much screen time required as a musician nowadays. The days of a band only having a MySpace have long gone! Nowadays you need to be a filmmaker, producer, graphic designer, and also have the full Adobe suite to compliment the music. This can sometimes detract from the simple joy of picking up the Guitar and writing a tune.

---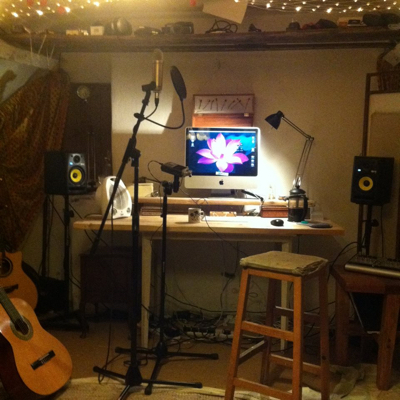 ---
Can you tell us about your background?
After College I did a science degree and worked for a really amazing community project in Bristol called Coexist. It was fascinating – and although I've got no regrets, I did shy away from following my creative side until later in my twenties. It took me a while to make the leap and focus on music as a career. My advice would be to go for what you want in life and follow your intuition along the way.
What challenges you?
Finances are often a hinderance. As an establishing artist I need to subsidise my career with part time jobs – its a balancing act. More personally, my own head and its perceptions of musical success can be challenging, its easy to meet brick walls and lose the faith in what you're doing because of some far flung notion of what the dream looks like. Good to keep it grounded in today and so I usually overcome these frustrations by picking up the guitar or sitting at the piano, writing new songs or playing in a new town or venue.

---
---
What's the biggest lesson you've learnt from your work?
Patience again. I'd do a lot more in terms of gigging and touring, collaborating and recording if I could, but its sometimes hard to do all of this alone without the help of industry types (booking agents, managers, labels etc). Of course its possible with the DIY approach, and there are lots of success stories with artists who have done it this way. Getting out there and meeting people really helps, making friends along the way and keeping inspired as an artist. Its important to strike the right combination of cave time for writing and recording, then getting out there and making connections and playing as much as possible – yo-yoing from an introvert to extrovert!


---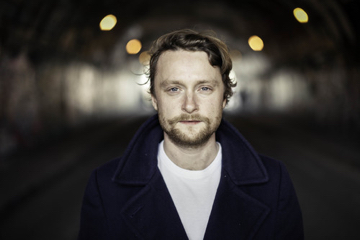 formimages.com
frederiquebellecphotography.com
---
What have you got planned in the upcoming year?
Exposure, exposure, exposure. Having spent a while developing both my new album and website, I'm ready to get playing live as much as possible this year. The aim is to start working more with booking agents, management and maybe a label…saying that, primarily I want to enjoy life on the road and get by as a musician.

And finally…what would be your three desert island discs?
Good question! Can I cheat and take compilations? I'd have to take some seventies Folk – something like James Taylor or Jackson Browne, my original inspirations as a songwriter. Then probably something calming, some World music from a Putumayo compilation or maybe some Gandharva Veda Indian Flute. For an upbeat flavour I'd go for some well-aged electronic music, but thats another question entirely…

---
Find out more about Sennen —
sennentimcke.com

---